The Honourable Antoinette Perry
Member Sidebox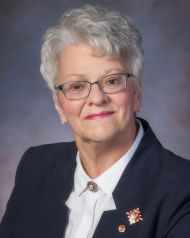 The Honourable Antoinette Perry was sworn in as Lieutenant Governor of Prince Edward Island and invested as a member of the Order of PEI, for which she serves as Chancellor, in a special ceremony on October 20, 2017 in her home community of Tignish. She is the 42nd Lieutenant Governor since the colony of PEI was established and the 29th since Confederation.
Antoinette Perry is a respected educator from Tignish, Prince Edward Island. Before her retirement from teaching in 2009, she enjoyed a distinguished 32-year career at Tignish Consolidated Elementary School where she taught Music and French. She serves as an organist and church choir director at St. Simon and St. Jude Parish and as a co-coordinator of the Parish's Summer Organ Recital Series.
Ms. Perry studied Music Education at the Université de Moncton before returning home in 1977 to teach. Her lifelong passion for music and teaching found expression in many ways, including her establishment of the West Prince Music Festival (affiliated with the Federation of Canadian Music Festivals) and her service on the executive committee of the Prince Edward Island (P.E.I.) Music Educators Association. As Vice Principal of Tignish Consolidated Elementary School, she worked to instill in her students and their families a sense of pride in their community. Ms. Perry has also served on the P.E.I. Education Commission.
Her honour is a proud Acadian who enjoys celebrating her culture through her involvement in community and cultural organizations. She has served on the West Prince Arts Council and the Tignish Historical Preservation Society and, in 1979, she composed the theme song "Acadiens, c'est l'heure" for the celebrations of the 375th anniversary of the arrival of the first Acadians and the 60th anniversary of the founding of the Société Saint-Thomas-d'Aquin. She also directed the Bicentennial Choir for the first ever recording of Ave Maris Stella, the Acadian National Anthem, with the official French verses.
In 2011, she spearheaded her parish's organ restoration project which, thanks to her community's generosity, saw the majestic instrument restored to its original state. In addition to her music interests, her hobbies include cooking, yoga, travel and discovering hidden treasures in PEI.