Governor Colonel Sir Aretas W. Young
Member Sidebox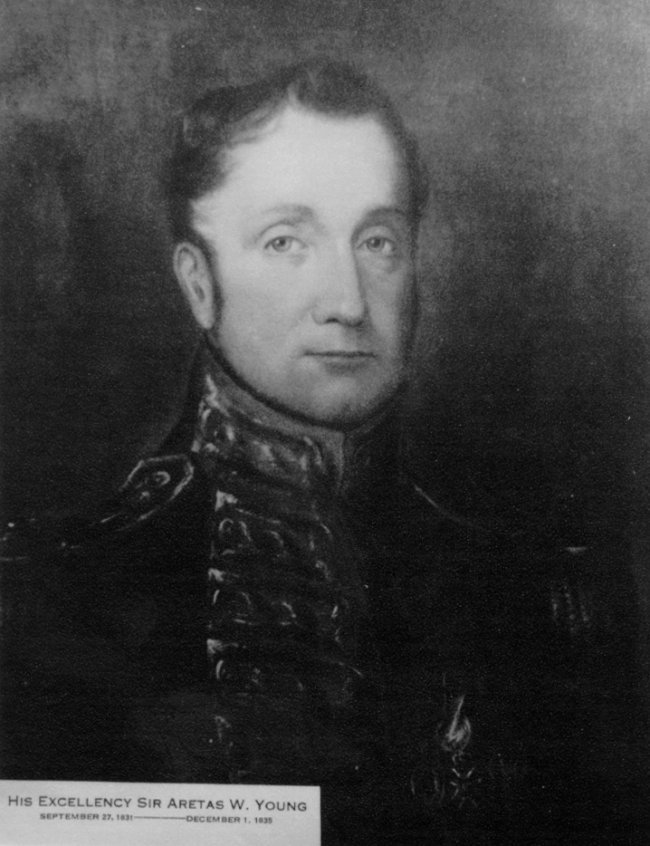 With the untimely death of Sir Murray Maxwell, Sir Aretas William Young became the sixth Governor of Prince Edward Island since the creation of the Colony in 1763. He married Sarah Cox, of Coolcliffe, Wexford, England, and they had several children, one of whom was Sir Henry Edward Fox Young, Governor of South Australia (1848- 1855) and Tasmania (1855-1861).
Sir Aretas William Young, British soldier, was born about 1778. He entered the army in 1795 as ensign, was captain in the 13th foot in 1796 and served in Ireland during the rebellion of 1798. In 1801, he was on duty in Egypt and in 1807, he was advanced to the rank of major in the 47th Regiment. Subsequently, he was engaged in many battles of the Peninsular War and from 1813, he served in the West Indies as Lieutenant-Colonel, chiefly at Trinidad.
In 1815 he was sent to join the expedition against Guadeloupe and received one of the badges of the Order of Merit from Louis XVIII. He was next placed in command of the troops in Grenada and, on his being ordered back to Trinidad, the Council of Assembly presented him with a sword valued at 100 guineas. From this time to the final disbandment of the 3rd West Indian Regiment in 1825, he administered the government at various times during the absence of Sir Ralph Woodford and was rewarded for the "candor, integrity and impartiality which had marked his administration" by 150 guineas for a sword and plate valued at £250. In 1826, he was appointed protector of slaves in Demerara (Trinidad). Young was appointed Governor of Prince Edward Island on 26 July 1831, a position he occupied until his death in office at Charlottetown, Prince Edward Island on 1 December 1835. In 1834 he was knighted.
George Wright filled in as Administrator for the period of time following Governor Young's death (1 December 1835) until the appointment of Sir John Harvey on 30 August 1836.
Photograph courtesy of PEI Public Archives and Records Office, Reference Number 2320/55-4