The Honourable Frederick Walter Hyndman
Member Sidebox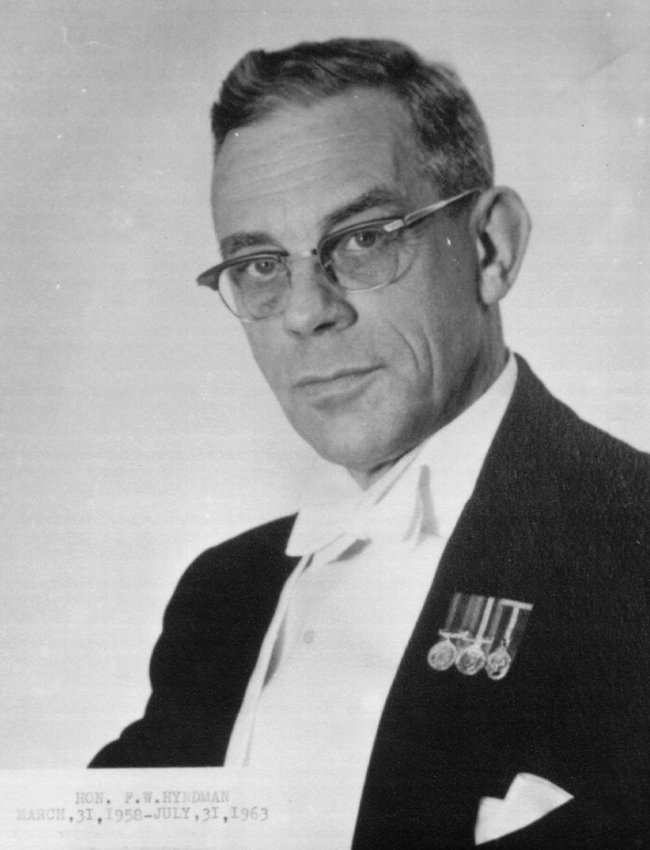 Frederick Walter Hyndman was the thirty-first Lieutenant Governor of Prince Edward Island since the creation of the Colony in 1763. Mr. Hyndman was born on 13 February 1904 in Charlottetown, Prince Edward Island, the son of Walter Eardley Hyndman and Winnifred Sarah Cotton. He was educated at West Kent School and Prince of Wales College in Charlottetown. On 10 October 1934 he married Norah Cecile, daughter of the late Charles Matthew Shannon of Georgetown, British Guiana and Charlottetown. They had three children: Nancy (B.Sc. Dalhousie); Frederick and John. He was a member of the Anglican church.
Frederick Hyndman was President of Hyndman and Company Ltd. (established in 1872) with offices in Charlottetown, Summerside, Montague and Alberton. He was Major and Second in Command (at outbreak of war) of the Prince Edward Island Light Horse Brigade. He held M.S.C. certificate and was Staff Officer, Army Headquarters, from 1942 to 1945. He was a member of the Charlottetown Club, Rotary, a life member of the United Services Officers' Club, a member of the Newcomer Society and former President of the Charlottetown Board of Trade and Gyro Club.
He was a candidate for the Conservative Party in the Prince Edward Island Legislature in 1955 for the 5th Queens District and was defeated. Frederick Hyndman was appointed Lieutenant Governor for the Province of Prince Edward Island on 31 March 1958.
Photograph courtesy of PEI Public Archives and Records Office, Reference Number 2320/60-32