The Honourable Peter Adolphus McIntyre
Member Sidebox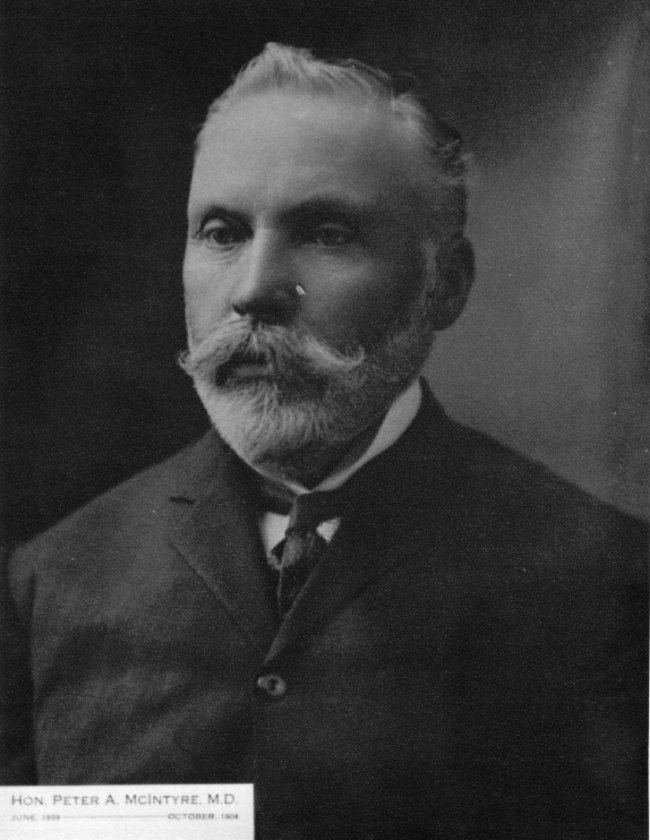 Peter Adolphus McIntyre was the twentieth Lieutenant Governor of Prince Edward Island since the creation of the Colony in 1763. Peter McIntyre was born at Peterville, Kings County, P.E.I., on 19th July 1840. His paternal grandfather came from Long Island, Inverness-shire, Scotland, about 1785 and settled at Cable Head in Prince Edward Island. His maternal great-grandfather fought under Wolfe at the taking of Quebec.
He was educated at St. Dunstan's College, Charlottetown, the Quebec Seminary, Laval University and he graduated as a medical doctor from McGill University in 1867 and began his practice at Souris, P.E.I. On 15th February 1871 he married Agnes, only daughter of Angus McDonald, esquire of Souris. Agnes died on 15th February 1885. Mr. McIntyre married for the second time on 27th October 1886 to Barbara (Rigg) of Dumfries, Scotland, widow of the late Honourable P. Walker of Charlottetown.
From 1872 to 1873 he was one of the commissioners appointed to look after the construction of the P.E.I. railway and was coroner for Kings County for many years. He held a first-class military certificate from the Montreal School. Peter McIntyre was a railway commander on P.E.I. from May 1872 to August 1873. He was elected as a Liberal to represent Kings County in the Parliament of Canada in the general election held on 22nd January 1874, was defeated in 1878 and reelected on 20th June 1882 and 22nd February 1887. He was appointed Lieutenant Governor for the Province of Prince Edward Island on 23rd May 1899.
Photograph courtesy of PEI Public Archives and Records Office, Reference Number 2320/60-21