The Honourable Thomas Heath Haviland
Member Sidebox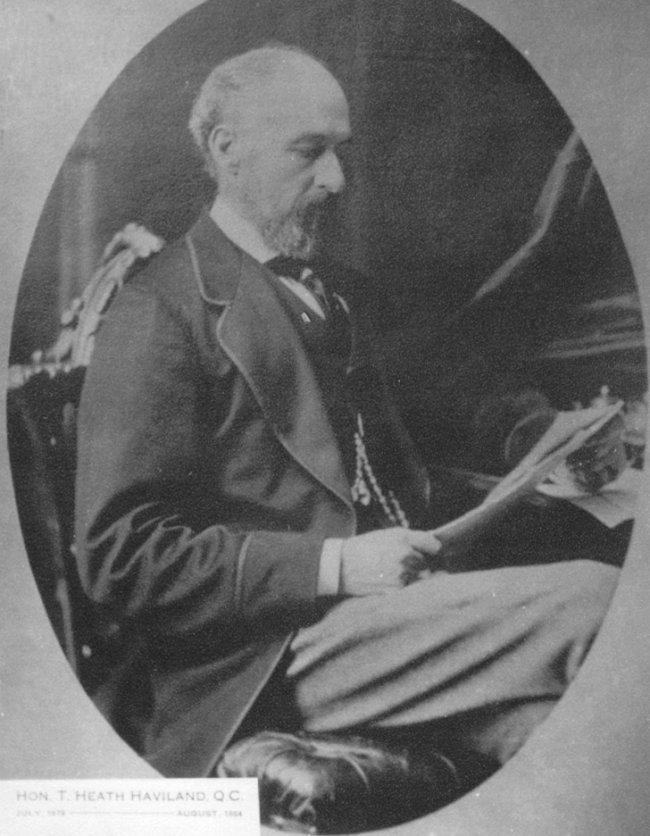 Thomas Heath Haviland was the sixteenth Lieutenant Governor of Prince Edward Island since the creation of the Colony in 1763. Thomas Heath Haviland was born in Charlottetown on 13 November 1822 and educated at Brussels in the Kingdom of Belgium. He was the son of the late Honourable Thomas Heath Haviland, formerly of Gloucestershire, England, who was, for many years before the introduction of Responsible Government in 1851, a member of the Executive and Legislative Councils and Colonial Secretary of P.E.I.
In 1847 he married Annie Elizabeth, daughter of John Grubbe, esquire, late of Horsenden House, Buckinghamshire, England. He was called to the bar of Prince Edward Island in 1846 and created a Q.C. in 1865. He was a director of the Bank of P.E.I., a Master in Chancery, a Notary Public and a Colonel in the Volunteer Militia. He was a member of the PEI Executive Council from April, 1859 to November, 1862; for a short period in 1865; from 1866 to 1867 and from September, 1870 until April,1872 during which several periods he held the office of Colonial Secretary almost constantly - except in 1865 when he was Solicitor General. He was Speaker of the Provincial Assembly from 1863 to 1843 and Leader of the Opposition in that Chamber from 1867 until the general election in 1870.
He entered local Cabinet again on 13th April 1873 and held the office of Provincial Secretary, which he resigned in 1876. He was a delegate to the Quebec Union Conference in 1864 and to Ottawa, with Hon. Messrs. Pope and Howlan in May of 1873 to arrange final terms upon which Prince Edward Island was admitted as a Province of the Dominion. He sat for Georgetown in the Provincial Assembly since 1846. When Prince Edward Island was included in the Dominion of Canada he was called to the Canadian Senate on the 18th October 1873 and in 1879 he resigned from the Senate on his appointment as Lieutenant Governor of Prince Edward Island on 14th July 1879. He died in Charlottetown on 11th September 1895.
Photograph courtesy of PEI Public Archives and Records Office, Reference Number 2320/60-17