Order of Prince Edward Island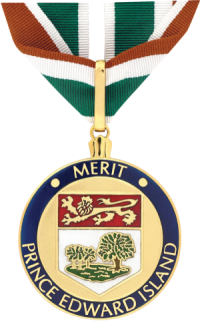 The Order of Prince Edward Island was established in 1996 as the highest distinction conferred citizen of the province in the name of the Crown.  The O.P.E.I. is a unique way of recognizing and honouring those Islanders who have shown individual excellence and outstanding leadership in their community and in their chosen occupation or profession.  It is awarded annually following a public nomination process with recipients being selected by an independent nine-person Advisory Council.  The Insignia of the Order is presented by the Lieutenant Governor at a special investiture ceremony at Government House in Charlottetown.
To nominate someone for the Order of Prince Edward Island, please visit https://assembly.pe.ca/opei.
 

| Recipient | City | Invested |
| --- | --- | --- |
| Mark Arendz | Hartsville | 2018 |
| Angèle Arsenault (deceased) | Abrams-Village | 2005 |
| Père Éloi Arsenault | Wellington | 2004 |
| Georges Arsenault | Charlotttetown | 2003 |
| Jeanette Arsenault | Abrams-Village | 2019 |
| Leone Bagnall (deceased) | Hazel Grove | 2005 |
| Carolyn Bateman | Charlottetown | 2016 |
| Chief Darlene Bernard | Lennox Island | 2008 |
| Honourable Léonce Bernard (deceased) | Wellington | 2001 |
| Marlene Bryenton | Charlottetown | 1998 |
| Reverend Francis W.P. Bolger (deceased) | Charlottetown | 2004 |
| Leo Broderick | Charlottetown | 2019 |
| Emily Bryant | Stratford | 2012 |
| Garnet Rankin Buell | Murray River | 2008 |
| Marie Burge | Charlottetown | 1998 |
| Honourable Catherine Callbeck | Central Bedeque | 2017 |
| William Callbeck | Central Bedeque | 2011 |
| Dr. Sheldon Cameron (deceased) | Summerside | 2006 |
| Honourable Alexander Bradshaw Campbell | Kensington | 2013 |
| Bill Campbell | Charlottetown | 2015 |
| Reverend Charles Cheverie (deceased) | Charlottetown | 1996 |
| Dr. Najmul H. Chishti | Charlottetown | 2019 |
| Honourable Gilbert R. Clements (deceased) | Montague | 1996 |
| Heather Cutcliffe | Crapaud | 2018 |
| Sibyl Cutcliffe | Charlottetown | 2012 |
| Eleanor Davies | Stratford | 2011 |
| Donald Deacon (deceased) | Charlottetown | 2003 |
| Sister Mary Deighan | Charlottetown | 1997 |
| Dr. George Dewar (deceased) | New Perth | 1996 |
| Vera Elizabeth Dewar (deceased) | Stratford | 2013 |
| Gerald Sheldon Dixon | Summerside | 2015 |
| Dr. Dagny Dryer | Little Sands | 2016 |
| Anna Duffy | Charlottetown | 2002 |
| Regis Duffy | Kinkora | 2010 |
| Edith Eldershaw (deceased) | Tignish | 1999 |
| Dr. Kent Ellis (deceased) | Souris | 1996 |
| J. Henri Gaudet (deceased) | Tignish | 2000 |
| Allan Graham | Alberton | 2002 |
| Diane Griffin | Stratford | 2010 |
| Honourable Barbara Hagerman (deceased) | Charlottetown | 2006 |
| Wayne Hambly | Charlottetown | 2014 |
| Wilma Hambly | Charlottetown | 2009 |
| Nancy Ann Hamill | Mill River | 2008 |
| Catherine Hennessey | Charlottetown | 2017 |
| James Hogan (deceased) | Summerside | 1996 |
| J. Arthur Hudson | O'Leary | 2000 |
| Dr. Albert "Bud" Ings (deceased) | Montague | 2012 |
| Irene Jewell | York | 2018 |
| Derek Key | Summerside | 2005 |
| Frank Ledwell (deceased) | St. Peter's Bay | 2006 |
| Dorothy Lewis | York | 2006 |
| Honourable H. Frank Lewis | York | 2011 |
| Charles Linkletter (deceased) | Cardigan | 1997 |
| Dr. Joyce Madigane | Tyne Valley | 2013 |
| Dr. John H. Maloney (deceased) | Charlottetown | 2001 |
| Maylea Manning | Bonshaw | 2001 |
| Heather Leanne Moyse | Summerside | 2014 |
| Ray Murphy | Charlottetown | 2007 |
| James C. MacAulay | St. Peter's Bay | 2017 |
| Elmer MacDonald | North Tryon | 2009 |
| Honourable H. Wade MacLauchlan | Covehead | 2014 |
| William MacLean | Kensington | 2007 |
| Helen Stewart MacRae | Charlottetown | 1997 |
| Shirley McGuinn (deceased) | Charlottetown | 2000 |
| Barbara McNeill | Summerside | 2004 |
| Dr. Hubert "Sock" O'Hanley (deceased) | Charlottetown | 1999 |
| Honourable Antoinette Perry | Tignish | 2017 |
| Ulric Poirier (deceased) | Mont-Carmel | 1996 |
| Honourable Marion L. Reid | Breadalbane | 1996 |
| Helen Robbins (deceased) | Montague | 2007 |
| Antoine Richard | Wellington | 1998 |
| Paul H. Schurman | Summerside | 1999 |
| Father Brady Smith (deceased) | Fort Augustus | 2010 |
| Dr. Charles St. Clair Trainor | Charlottetown | 2015 |
| Kay Wall | Summerside | 2001 |
| Elmer Williams | Summerside | 2002 |
| Noel Wilson (deceased) | Cardigan | 2003 |
| Dr. David Wong | Summerside | 2011 |
| Frank Zakem (deceased) | Charlottetown | 2009 |