The Honourable Bradford LePage
Member Sidebox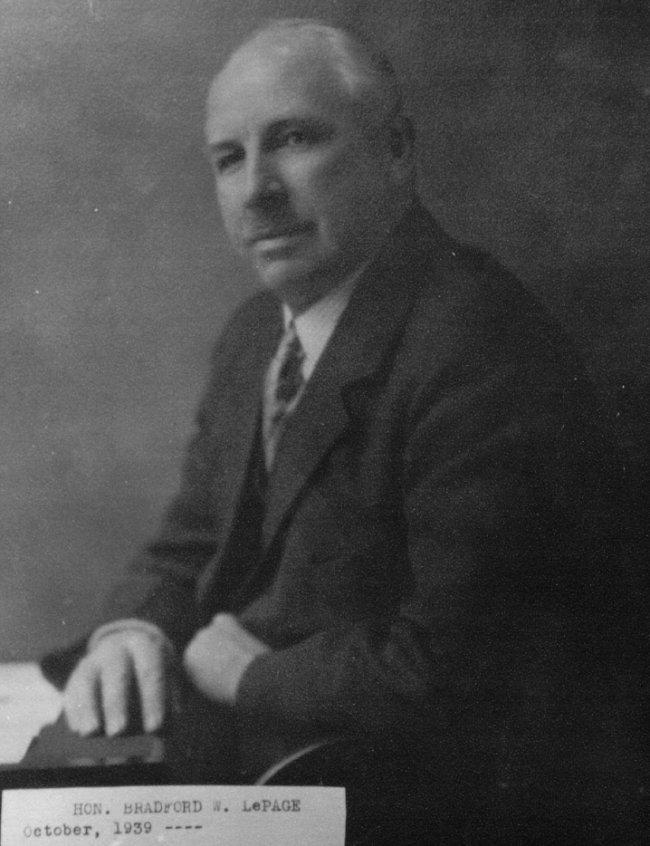 Bradford William Lepage was the twenty-eighth Lieutenant Governor of Prince Edward Island since the creation of the Colony in 1763. Bradford LePage was born on 19th February 1876 in Rusticoville, Prince Edward Island, the son of Elisha Christopher Page and Sarah Millicent. His father was of French Huguenot descent and his mother of Scottish descent.
On 24th February 1898, Bradford LePage married Harriett, daughter of James A. Christie and Matilda Sands Williams of Mayfield, Prince Edward Island. They resided in Rusticoville where LePage operated a general store. The LePage's moved to Charlottetown in 1920 with their two children, William Reuel and Hilda Ruth. He was a general merchant, lobster packer and President of LePage Shoe Company Ltd. LePage was a member of the United Church of Canada.
Bradford LePage was elected to represent 2nd Queens District in the Provincial Legislature on 24th July 1919. He was acting Premier of Prince Edward Island. He was a sworn member of the Saunders ministry on its formation on 12th August 1927. Mr. LePage was a member without portfolio in the Lea government. He was reelected in the general elections held on 6th August 1931 and 23rd July 1935 and appointed minister without portfolio in Mr. Lea's cabinet on 15th August 1935. Mr. LePage was appointed President of the Council in Premier T.A. Campbell's cabinet on 14th January 1936. He was reelected in the General Election held on 18th May 1939.
Mr. and Mrs LePage represented the Province of Prince Edward Island at the coronation of King George V1 and Queen Elizabeth in 1937.
In the last year in his term of office Lieutenant Governor LePage refused to assent to the Cullen Amendment to the Prohibition Act.
Bradford LePage was appointed Lieutenant Governor for the Province of Prince Edward Island on 1st October 1939. Bradford LePage died in Charlottetown on 4th December 1958. He is buried in the Peoples Cemetery.
Photograph courtesy of PEI Public Archives and Records Office, Reference Number 2320/60-29