The Honourable Donald Alexander MacKinnon
Member Sidebox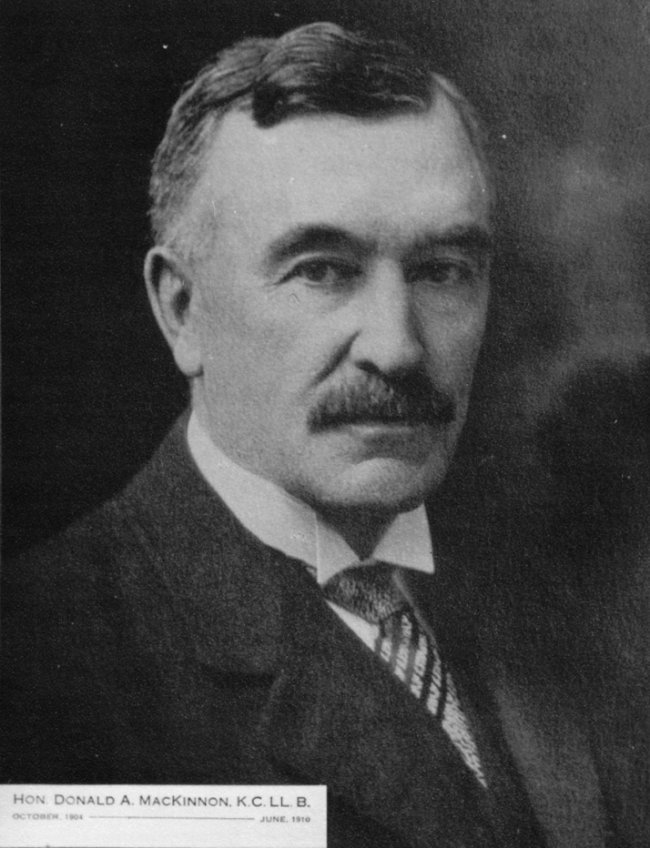 Donald Alexander MacKinnon was the twenty-first Lieutenant Governor of Prince Edward Island since the creation of the Colony in 1763. Donald Alexander MacKinnon was the son of William MacKinnon and Katherine Nicholson, both of Scottish descent. Donald MacKinnon was born in Uigg, Belfast, Prince Edward Island on 21st February 1863. He was educated on the Island at Uigg Grammar School, Prince of Wales College and as well as at Dalhousie University Law School, Halifax (LL.B.). He married Adelaide Beatrice Louise Owen of Georgetown, Prince Edward Island, in 1892. MacKinnon was a member of the Presbyterian church.
He was Chairman of Georgetown School Trustees. He was admitted to the bar in 1887 and granted Kings Council in 1900. In 1893, he was elected to the Prince Edward Island Legislative Assembly for Murray Harbour District and was reelected in 1897. He was appointed Attorney General of Prince Edward Island in 1899.
Donald MacKinnon was elected by a majority of 7 votes as a Liberal to represent East Queens District in the Parliament of Canada in the general election held on 7th November 1900. The election was declared void on 1st February 1901 and a new election was held on 20th March 1901 when MacKinnon was again returned by a majority of 394. MacKinnon was later elected to the Parliament of Canada as a Liberal to represent Queens District in the general election held on 6th December 1921 and was unsuccessful in the following general election held on 29th October 1925.
Donald MacKinnon was appointed Lieutenant Governor for the Province of Prince Edward Island on 3rd October 1904 and remained in this position until 30th May 1910.
Earlier in his career, he had been a public school teacher. During his terms as a parliamentarian, he took a prominent place in striving to obtain transportation, and other facilities for his native province, including the first railway and traffic bridge to be built across the Hillsborough River about the beginning of the 20th century, and the rail addition from Charlottetown to Murray Harbour, and trying to aid the agriculture and fishing industries.
The Montreal Star once wrote of him, "an able lawyer and a wise and prudent administrator."
Photograph courtesy of PEI Public Archives and Records Office, Reference Number 2320/60-22