The Honourable George William Howlan
Member Sidebox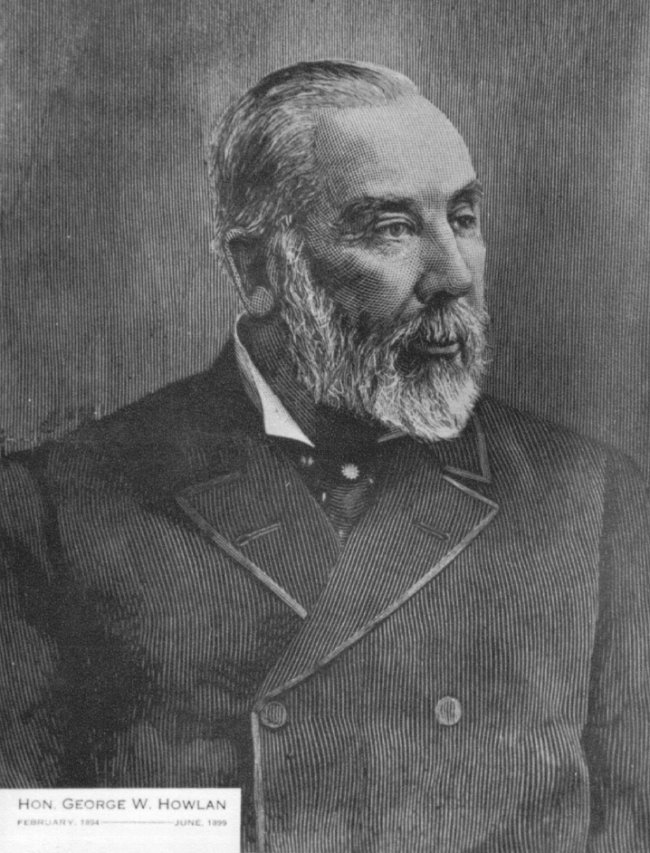 George William Howlan was the nineteenth Lieutenant Governor of Prince Edward Island since the creation of the Colony in 1763. George William Howlan was born in Waterford, Ireland on 19 May 1835. He emigrated with his parents to PEI in 1839 and was educated at the Central Academy, Charlottetown. He became a merchant and shipowner interested in the fisheries. From 1862 to 1873 he represented Queens District in the Legislative Assembly of Prince Edward Island and from 1866 to 1873 he was, almost without interruption, a member of the Executive Council. On 1 October 1866 he married Miss Olsen of St. John, New Brunswick. She died in April 1876 and in 1881 he married Miss Doran of Kingston, Ontario.
George Howlan was a merchant, Vice-Consul for Sweden, Denmark and Norway and Vice President of the Prince of Wales College. He entered PEI Executive Council, the Dominion Board of Trade and a Governor of 1866 and remained a member of the government, part of the time being co-leader almost uninterruptedly up to 30 June 1873. He was a delegate to Washington Trade matters in 1869 and at Ottawa with Honourable Messrs. Pope and Haviland in May, 1873 to settle terms of union with Canada which terms were unanimously adopted by both Houses of the Legislature. He sat for First District of Prince in the Provincial Assembly from 1862 until June, 1873 when he was appointed Collector of Customs in Charlottetown, an office he resigned in September following in order to contest Prince for the Commons for the purpose of strengthening the Conservative Party. He was defeated by a small majority.
He was in the Provincial Assembly a strenuous advocate of the building of the PEI Railway and the building of a tunnel between PEI and the mainland. He was called to the Senate on PEI entering the Dominion on 18 October 1873. After resigning in 1880, he was reappointed on 5 January 1881. In 1891, he resigned his seat to become a candidate for Prince County, PEI at the then general election for the House of Commons. Being defeated, he was reappointed to the Senate in March of 1891.
In March 1891 Mr. Howlan was a delegate to England for the P.E.I. Government to confer with Sir Douglas Fox, C. E., on the practicability of building a tunnel across the Strait of Northumberland; also, a delegate in the same year from the Dominion government to confer with the Newfoundland government on the bait question with a view of bringing about an amicable settlement between both governments.
George William Howlan was appointed Lieutenant Governor for the Province of Prince Edward Island on 21 February 1894. Howlan died on 11 May 1901.
Photograph courtesy of PEI Public Archives and Records Office, Reference Number 2320/60-20