The Honourable H. Frank Lewis
Member Sidebox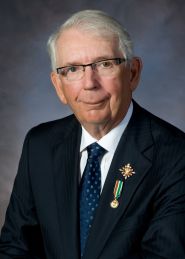 The Honourable H. Frank Lewis was sworn in as Lieutenant Governor of Prince Edward Island and invested as a member of the Order of P.E.I., for which he serves as Chancellor, in a special ceremony on August 15, 2011. He is the 41st Lieutenant Governor since the colony of PEI was established and the 28th since Confederation.
Prior to taking office, Frank Lewis was a life-long resident of York, Prince Edward Island. For over 50 years, Mr. Lewis was an active and respected member of the PEI business community, including as a broadcast executive, entrepreneur, and volunteer.
His Honour has been recognized for his achievements in his vocation and the community with numerous citations and awards including induction into the Canadian Association of Broadcasters Hall of Fame in 2006 and the Junior Achievement of Prince Edward Island Business Hall of Fame in 2010.
As Lieutenant Governor, Mr. Lewis remains very active and continues to engage with the business community, non-profit organizations and community groups across Prince Edward Island to acknowledge their contributions to a prosperous and caring society.
His Honour has been married to Dorothy (Millar) since 1957 years and they have five children, eleven grandchildren and four great-grandchildren.