The Honourable Sir John Harvey
Member Sidebox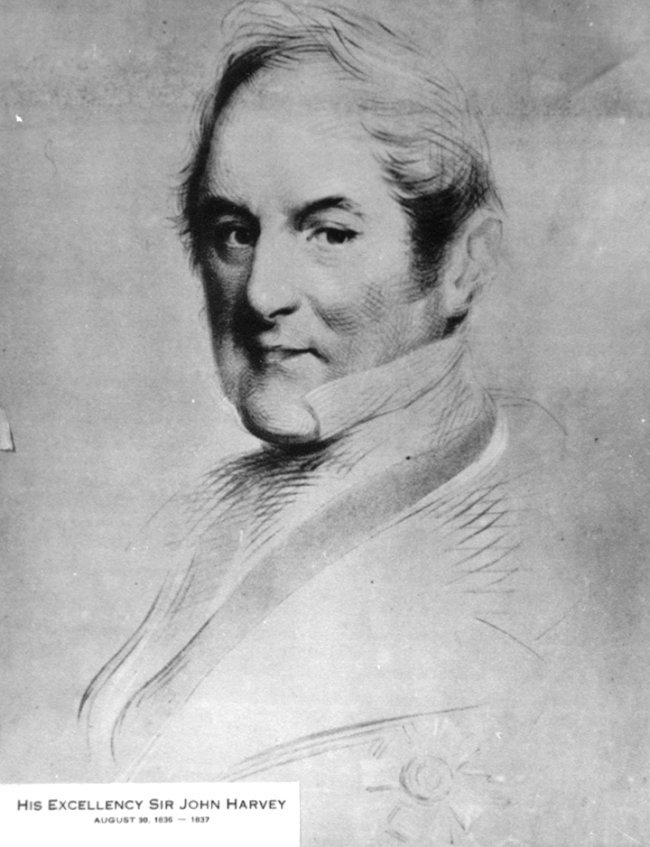 John Harvey was the seventh Governor of Prince Edward Island since the creation of the Colony in 1763. John Harvey was born in England on 23 April 1778. He entered the British army in 1794 and rose slowly through the ranks because he did not have the private wealth which would have enabled him to purchase promotions. He served in the Netherlands, France, Ceylon and Egypt. From 1803 to 1807, he was in India. In 1813, Harvey, now a Lieutenant Colonel, came to Upper Canada and saw action in the War of 1812.
His future became uncertain after 1815, but in 1828 he managed to obtain the appointment of Inspector General of Police in the Irish Province of Leinster. On 30 August 1836 he was appointed Governor of Prince Edward Island, moving to New Brunswick the following year. He was recalled from New Brunswick because of his handling of the Maine boundary dispute, but was appointed Governor of Newfoundland in 1841.
The political situation in Newfoundland was troubled and volatile. Harvey was in part responsible for the revised constitution introduced in 1842, which amalgamated the two houses of the Legislature and he deliberately implemented a policy of conciliation and fairness. He ensured that the Roman Catholics received government patronage and were represented on the council and persuaded Bishop Fleming to withdraw from politics. At the same time, he managed to maintain the support of conservatives, helping the Chamber of Commerce in its efforts to obtain better postal and steamship services, reforming the police force and actively promoting the development of agriculture. In short, Harvey gave the colony a political respite between storms of the 1830s and the bitter divisions surrounding the campaign for responsible government that was just beginning as he left.
In August 1846 Harvey became Governor of Nova Scotia. He died in Halifax on 22 March 1852.
Photograph courtesy of PEI Public Archives and Records Office, Reference Number 2320/56-13