The Honourable Sir William Cleaver Francis Robinson
Member Sidebox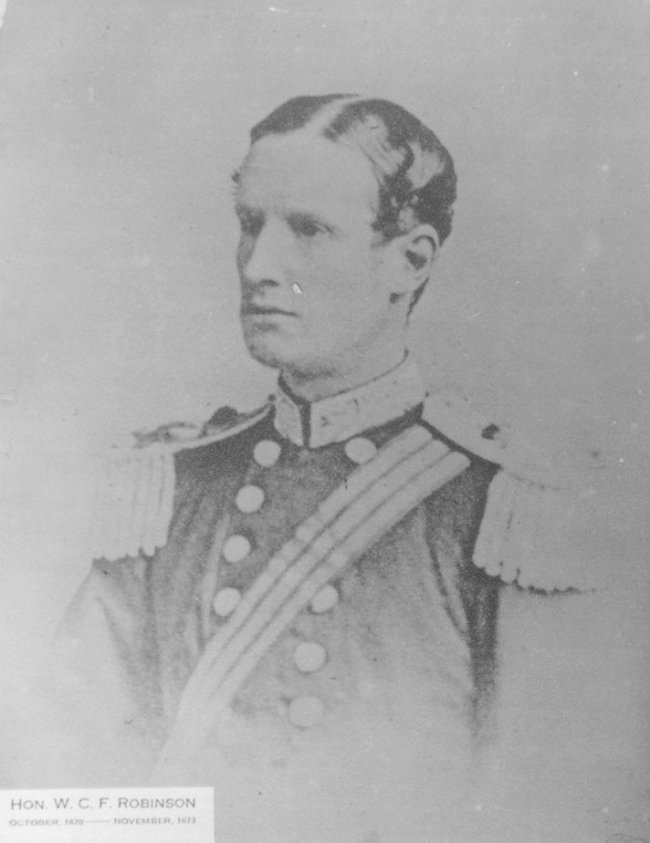 Sir William Cleaver Francis Robinson was the fourteenth Governor of Prince Edward Island since the creation of the Colony in 1763 and on 1 July 1873 (as of this date all appointments were hereafter referred to as Lieutenant Governor) became Lieutenant Governor for the Province of Prince Edward Island when the province entered Confederation. Mr. Robinson was born on 14 January 1834 and was the fifth son of Admiral Hercules Robinson. He entered the service of the Colonial Office in 1858 as private secretary to his elder brother, Sir Hercules Robinson, afterwards first Baron Rosmead, who was Lieutenant Governor of St. Kitts.
In 1862 he married Olivia Edith Dean, daughter of the Right Rev. Thomas Stewart Townshend, Bishop of Meath. They had three sons and two daughters.
In 1866 he was appointed Governor of the Falkland Islands and then in 10 June 1873 he was appointed as Governor for the Province of Prince Edward Island. It was during his administration, and partly as a result of his judicious counsels, that the inclusion of Prince Edward Island in the Canadian Confederation took place on 1 July 1873.
He was created a Companion of the Order of St. Michael and St. George (C.M.G.) in 1873, a Knight Commander of St. Michael and St. George (K.C.M.G.) in 1877 and a Knight, Grand Cross of St. Michael and St. George (G.C.M.G.) in 1887.
After leaving Prince Edward Island he occupied successively important posts as Governor of Western Australia, the Straits Settlements, South Australia, and Victoria, and he retired from active service in 1895. He was a musical composer of some note, and was the author of a number of well known songs. He died in South Kensington, London, England on 2 May 1897.
Photograph courtesy of PEI Public Archives and Records Office, Reference Number 2320/60-15